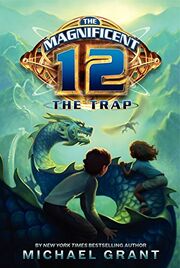 The second installment in The Magnificent 12 series
Back cover description:
In the thrilling second book of the Magnificent 12 series, Mack MacAvoy is challenged by his spectral mentor, Grimluk—who only appears in the shiny chrome pipes of bathrooms. While in Sydney, Grimluk appears to Mack and tells him he has thirty-five days to assemble the remaining members of the Magnificent Twelve and destroy the Pale Queen! Then Grimluk disappears, and Mack is left talking to a toilet. But he swears he heard Grimluk say to "Beware of a trap." And Mack has no idea what that means. All he knows is he has a little time and a lot to do.Mack, Jarrah, and Stefan's next stop after Sydney is Beijing. Immediately they are greeted by the notorious henchman (and notoriously asthmatic) Paddy "Nine Iron" Trout, the same old man who froze time in the hallways of Mack's school. Not only that, but Paddy has with him an army of black-and-white spotted Lepercons (no, not leprechauns)—small, leprous creatures that ooze a blue cheese-like substance and attack Mack, Jarrah, and Stefan with knitting needles. And that's only the beginning.Beijing holds many surprises for the Magnificent Twelve, including its newest member—the beautiful and smart Xiao Long—and another close encounter with Ereskigal. After an eventful visit to the Great Wall, the troupe of twelve-year-olds travels by dragon to Germany, where they meet Dietmar Augestein, Grimluk and Gelidberry's great-one-hundred-forty-nine-times-in-all-grandson and fifth member of the Twelve. All the while, Stefan continues to protect Mack from danger . . . and seems to be crushing on Jarrah. (And just wait until you find out who Paddy Trout has a crush on!)Plenty more shenanigans ensue in their quest to heed Grimluk's bathroom-stall warning. Will the Twelve decipher Grimluk's clues in time (or at all)? Can Mack achieve everything he must do without getting killed by the evil Risky—and escape the trap? It's going to be interesting, that's for sure!