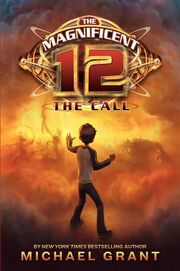 The first installment of the magnificent 12 series
Back cover description:
No one has ever accused twelve-year-old Mack MacAvoy of being brave. He has so many phobias he's even developed a phobia of phobias! Mack is sarcastic, a little lazy, and a born bully magnet. Not exactly your typical hero. Too bad the evil Pale Queen couldn't care less. She is determined to destroy the world, and only Mack and a team of twelve twelve-year-olds from around the globe have the power to stop her. They are the Magnificent Twelve, and it's up to Mack to assemble and lead them.Mack's first mission is to travel to Australia to find Jarrah, the second of the Magnificent Twelve—but it won't be easy. Ereskigal, the Queen's drop-dead beautiful daughter, is already on the loose. And don't let her drop-dead looks fool you. She's much more into the dropping-dead part than the being beautiful part. She is the evil goddess of the underworld, after all.Luckily, Mack has his very own bodyguard—Stefan, king of the bullies. Sure, Stefan used to use Mack as his personal punching bag. But things are different now. And besides, when you have to travel across the world, fight indescribable evil, and face your deepest fears, sometimes it's good to have a bully around. That, plus advice from a very old man named Grimluk, who fought the Pale Queen himself thousands of years ago, will be invaluable to Mack.So Mack's got Grimluk, Stefan, and a brand-new credit card on his side. Now all he has to do is get to Australia, face an army of deadly elves, and fight the undefeatable Ereskigal. Oh—and hope his parents don't figure out they're living with a shape-shifting creature called a golem instead of their son.
Piece of cake, right?